Description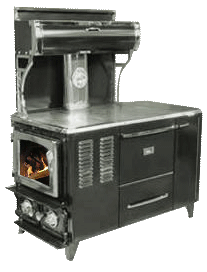 FLAME VIEW WOOD COOK STOVE
When it comes to the wood cook stoves of yesteryear there is an old adage that says Grandma spent most of her time carrying ash out the back door while Grandpa was carrying wood in the front door! Stove fireboxes were small and burned inefficiently. Wood had to be frequently added and the fire stoked often even throughout the night. Fortunately, times have changed and so have wood cook stoves! Welcome to the airtight revolution and the Flame View wood cook stove!!
Manufactured in Canada since 1974, where winters are a real test for any stove, the Flame View will endure heavy use! Margin not only designed the Flame View to be a very efficient stove in that it can heat your home, heat your water and cook your food, but they even made it look good! They have combined that old-time look and mixed it with state-of-the-art technology.
Margin has made the first wood cook stove with a glass firebox door that allows you to see the fire!! Traditionally, fireboxes are on the left side of the stove. Margin is the ONLY manufacturer that gives you the option to change the firebox to the right. With this option you can watch and enjoy the fire no matter where you need to place the stove in your home!
Imagine all this from ONE stove! To top it off, the Flame View has been tested and approved by Underwriters Laboratory, so you know you are getting a safe stove that has met the codes required for the industry.
BE A DISCERNING SHOPPER!!
There is an individual that has lost his dealership with Margin and has gone to great lengths to discredit this stove and the manufacturer (in business for 43 years!) in forums and with videos on the internet. Because of the negative bias of this material, he has been asked by Margin to remove this material but refuses to do so. The Amish/Mennonites will not go to court to enforce this request.

We would encourage you to give us a call! We, personally, use the Flame View and can give you a first-hand testimony. Not only that, but over our 10+ years in business, we have sold MANY to MANY satisfied customers!
"We are thrilled to own a new Flame View wood stove from Stoves and More. Daniel gave us personal care and attention and the stove arrived on time, in perfect condition, as described on the website. We are very happy with the new stove" – D. L. Lacey, WA
"We were excited when we first learned about the Amish-made, Flame View stoves and were very impressed with the time and effort that Stoves and More took to ensure that we ordered what was best for us and gave us the knowledge and information about the various options. There were even some options that we thought we needed but Daniel explained better alternatives to fit out needs. We would definitely buy other products from Stoves and More." – M. B. Chandler, AZ
"Hello Daniel and Susan, It has been several years now, since I bought my Flame View from you. I absolutely LOVE this stove…logs will last from 6 pm until 5 am in the Flame View and I can still just open the bell/spin drafts and top drafts, throw in a couple of new logs and the fire starts right up from the coals.
We have had a warmer and drier winter this year, but the 2 days that I decided not to keep my wood cook stove burning, I felt cold and didn't have a way to cook my food, except the gas range. So, I lit my stove and fried chicken for my 3 sons and myself. Oh what a delight to have the best evenly fried chicken!!! You can't do that on a regular stove because the burners don't reach the outside of your cast iron skillet. I am spoiled for life!!" – L.R. Republic, WA
STANDARD FEATURES INCLUDE:
Heating capacity of 2,000 square feet or more
Large, airtight firebox will take up to a 22 inch log for an all night burn
Side load firebox enables you to keep cooking or canning without moving pots
High-temperature glass firebox door lets you watch and enjoy the fire
Takes standard firebrick that is inexpensive and easy to replace and install
Dual bell draft supply for glass wash and fast start-up
Double-plated steel cook top for a strong and evenly heated cook top
Cast iron wood grate system
Exclusive "Air Jet" re-burn design
Large ash trays below grates for convenient ash removal
Porcelain exterior finish throughout, standard in black
Porcelain black oven interior
Nickel plate trim
Oven draft control to circulate hot air around oven
Ships with FREE Poker and ash scraper
Limited one-year warranty
 OPTIONS:
Full warming closet or shelf only
Left OR right side firebox (exclusive only with the Flame View)
Cast iron top (available for stoves with left side fireboxes only)
Available in white, almond or black porcelain
Single OR double stainless steel hot water coil
2nd oven rack (comes standard with one rack)
Butter Plate Warmers on back splash (ornamental only)
Compact unit: 6 inches shorter than standard stove (the oven will be smaller, the firebox size remains the same)
10″ Electric fan & control (fits into the back of the stove and blows hot air out the vents in the stove front and side panels)
5 gallon water reservoir, copper lined (with or without faucet)
20 gallon water reservoir (back of stove) (with or without faucet)
New summer grate so you can use your stove almost year round
SPECIFICATIONS:
WITHOUT RESERVOIR


WITH RESERVOIR

Unit overall width

46″

56″

Unit overall height

64″

64″

Height to cooking surface

34 1/2″

34 1/2″

Cast iron cooking top size
(double plate steel over
reservoir)

25 x 40″

25 x 40″

Firebox size

22″ L x 12″ W x 18″ D


22″ L x 12″ W x 18″ D

Bake oven size

20″ W x 20″ D x 13″ H


20″ W x 20″ D x 13″ H

Exhaust flue size

7″

7″

Reservoir capacity

N/A

5 Gallons

Approx. heating capacity

2000 Sq. Ft.


2000 Sq. Ft.

Approx. shipping weight

650 Lbs

700 Lbs

Safety tested to

ULC-S627


ULC-S627
            These are the manufacturer's suggested retail published prices.
                     ***  Please call us regarding pricing!  ***
| | |
| --- | --- |
| ITEM DESCRIPTION |      PRICE |
| Black/nickel trim                           No back splash, no shelf, no closet  |    $  2695 |
| Black/nickel  trim                          Shelf |    $  2979 |
| Black/nickel trim                           Warming closet |    $  3225 |
| White or almond/nickel trim    No back, splash,  no shelf, no closet |    $  2800 |
| White or almond/nickel trim     Shelf |    $  3084      |
| White or almond/nickel trim    Warming closet |    $  3420 |
OPTIONS:
| | |
| --- | --- |
| ITEM DESCRIPTION | PRICE |
| Front flue | $  72 |
| Right-side firebox (left side firebox is standard) | $  72 |
| Cast iron top (for stoves with left side fireboxes only) | $ 196 |
| Single stainless steel water coil (to heat range boiler) | $ 110 |
| Double stainless steel water coil(to heat range boiler) | $ 160 |
| Stainless steel water jacket (full size) to heat rear res | $ 110 |
| Stainless Steel water jacket (1/2 size) to heat rear res | $  80 |
| Additional oven rack (comes standard with one rack) | $  45 |
| Compact Unit (6 in. shorter on oven side) | $  72 |
| Ornamental trivets for back splash (maple leaf design) | $ 116 |
| Electric Fan and Controls | $ 365 |
| Thermostat control | $ 138 |
| 5 gallon copper-lined side reservoir for black/nickel stoves | $ 415 |
| 5 gallon copper-lined side reservoir for white or almond/nickel stoves | $ 436 |
| 20 gallon stainless steel reservoir (back of stove) | $ 220 |
| Faucet (nickel-plated) for side reservoir | $  72 |
| Faucet (brushed nickel) for rear reservoir | $  49 |
| Nickel Legs | $ 138 |
| | |
West Virginia residents please add 6% sales tax.
SHIPPING
Please contact us for shipping information and pricing. We need your zip code information before we can decide the most inexpensive way to get your new stove to you. Please note: our location does not affect your shipping costs. Due to increased shipping costs, all products are dropped shipped directly to you from the manufacturer.
ORDERING
Your new stove will be custom made! We will be glad to work with you over the phone as you put your order together! Please contact us for manufacturing and shipping times, which can vary within the different times of year. We gladly accept personal checks.